Evolution Chips Remap Remapping in Essex
14:25:15 03-Jun-15
Evolution chips at OCMotorsport
Are you looking for ECU remaps?
We are experts in engine remapping of all types, be it car remapping or van remapping
The normally aspirated engine, whilst not the easiest of engines to tune can still benefit from up to 15% more power and torque by careful programming of various engine parameters within the ecu such as its fuel and ignition maps, and in some cases the cam timing can also be tuned within the maps.
Turbo diesel tuning. Our diesel performance chips & diesel remapping via the OBD port will dramatically improve your vehicles performance & economy.
Turbo Petrol Tuning.
We create, sell and fit engine performance chips and can perform an OBD performance remapping on most petrol turbo powered vehicles.
More Horsepower.
More Torque.
Improved Throttle Response.
Smoother Power Delivery.
Safer Overtaking.
Diesel Particulate Filter Removal (DPF Delete)
Benefits of diesel particulate filter removal are:
Diesel Particulate Filter Delete. DPF Removal. Better Performance
Diesel Particulate Filter Delete. DPF Removal. Increased MPG
Diesel Particulate Filter Delete. DPF Removal. Avoid Expensive Repair Costs
Evolution Chips Exhaust Gas Recirculation (EGR) Valve Deletion service.
The Problems:
Detonation.
Poor running.
Lack of power.
Excessive temperature.
ECU Fault light on dash.
The ECU often alters fuel and spark advance when it thinks EGR is active. If no EGR flow is possible because you removed it, you will have a lean condition which will be further aggravated by advanced timing, leading to detonation.
Call us now to book your car in with us! 01268 906 380
Evolution Chips Remapping Services
FORD FIESTA 1.6 DIESEL 1.0T Tuning
12:54:16 02-Jun-15
Ford Fiesta FIESTA 1.6 DIESEL 1.0T ECOBOOST Tuning @ OC Motorsport
OC Motorsport Have Always Been Up to Speed When it Comes to Tuning The Ford Fiesta.
We Are Now Updating to Our Current Kits Lots of Different Options of Tuning The Latest Hot Fiesta Fiesta MK7 FIESTA 1.6 DIESEL 1.0T ECOBOOST.
For More Information and Prices Please see the Following Link
Fiesta 1.6 Diesel 1.0T EcoBoost Tuning
We can also be contacted on 01268 906 380 or email with enquiries
Ford Fiesta ST180 Tuning @ OC Motorsport
12:47:25 10-May-15
OC Motorsport Have Always Been Up to Speed When it Comes to Tuning The Ford Fiesta.
We Are Now Updating to Our Current Kits Lots of Different Options of Tuning The Latest Hot Fiesta ST180 Ecoboost.
Power Kits Ranging from 215bhp to over 270bhp
For More Information and Prices Please see the Following Link
Fiesta ST180 Ecoboost Tuning
We can also be contacted on 01268 906 380 or email with enquiries
Hel Brake Lines
19:36:45 04-Jan-15
All 4 line standard kits just
78.00
delivered.
Available for most makes and models please email us with your requirements.
Ready for same day dispatch.
Paypal accepted
Please email info@oc-motorsport.co.uk for details and to order.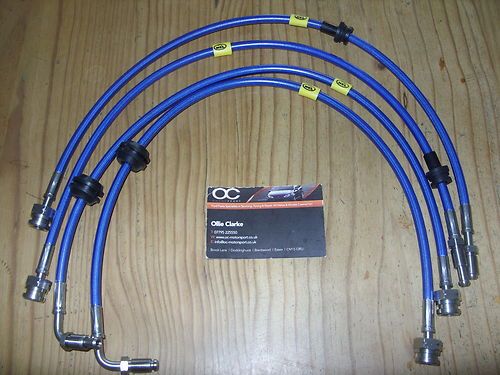 Fiesta ST150 Kit shown in blue.
Ford Puma FRP Remaps
20:57:47 11-Sep-13
Special Offer for limited time only.

Ford Racing Puma Remap for "tape" ecu's

The FRP Mapping benefits from:

1st and 2nd gear Torque Limiters Removed

7,200RPM Raised Rev Limiter

Recalibrated Fuel and Ignition Maps

Sees gains of around 8bhp on a Standard Puma 1.7 and even better gains on cars with full exhaust systems, cams and inlet modifications.

Offer Price 180.00 Usual price 225.00

Also available on a mailorder service. Send us your "tape" ecu and key and we will remap your ecu and send it back to you by Royal Mail Special delivery. We guarantee to remap it on the day we recieve it and post back the same day so you recieve it the next. 190.00
Trackday Trophy Silverstone Saturday 7th
08:58:22 05-Sep-13
OC Motorsport are back in action this weekend in the Trackday Trophy Series racing in our Class D Ford Puma 1.7

This time we'll be racing round the 1.639 mile silverstone National circuit.

Ollie and Wayne are hoping to pick up another trophy after their 2nd place finish last race.

This will prove to be a good day for competitors and spectators alike with action from not only the MSV Trackday Trophy but also from "the Atom Cup" "Quaife Motorsport News Saloons & Cannons Tin Tops" "Intermarque League" and "MSV Team Trophy"
OC Motorsport First Race of 2013
10:03:39 03-Aug-13
OC Motorsport were back out on track at the Brands Hatch GP Circuit in the MSV Trackday Trophy (a series designed to introduce people to racing with the cars all classed on power to weight ratio).
The car entered was our OC Motorsport Tuned and Developed Ford Puma 1.7 which was originally one of our customers trackday cars but since we have owned it we have converted it into a proper race car with better suspension and all the safety items such as fire extinguisher system, in date 6 point racing harness and power cut off switch.
With our knowledge of the puma/fiesta we knew what parts we needed to add to get the handling on track really good.
The car fits neatly into Class D which is 101bhp to 125bhp per ton (power taken at hubs and weight with driver after race).
On Saturday the 26th July, we were out for qualifying this went really well and we were able to set the 22nd quickest time out of 44 cars which put us into 1st in class having set a quicker time than a fair few cars in the larger classes.
With qualifying out the way we carried out the usual post quali checks where we discovered we didn't use anywhere near as much fuel as we thought we would. This was calculated and adjusted for the race.
With our qualifying position putting us in the middle of the grid we assumed it would be manic off the start line. This was the case with one car not making it into paddock hill bend.
Ollie Clarke started the race, being his first ever race he wasn't totally confortable with loads of cars in a small proximity all trying to get in front and unfortunately lost around 10 places including car 152 the bmw compact of Gibson/Meenan.
Over the next few laps the cars in front of our puma were very bunched up because of some slower cars. Eventually a couple of cars managed to make a break which allowed Ollie to finally get into the swing of things and get past also. By the time Ollie had finished his stint he had resumed 22nd place overall and set the fastest lap for class D with a 1:54.842
Ollie came into the pits and swapped over with Wayne Crabtree, with our best intentions of doing as close to the minimum 1 minute 50 seconds pit lane time we stayed in the pits for well over 2 minutes giving away precious time!
With Wayne out and putting in some good consistant laps we were on pace to catch up that time, unfortunately a safety car put halt to those times and with a very slow mini in front of us that didn't attempt to catch up with the pack we lost even more time! He was actually going 20 seconds a lap slower than the next car in front and under race rules you're not allowed to overtake under yellow flags. This was very frustrating to watch from the sideline and a real shame as if the gap had closed up a bit it would've been a brilliant last few laps.
On the last lap a vauxhall VX220 span infront of Wayne causing him to take avoiding action and to lose even more time. Luckily Wayne managed to hold off car 101 a bmw 318ti of Carney/Grove to come across ahead of them by 0.319 and take second place in class!
We were extremely chuffed to come home with 2nd place on our first race in the trackday trophy.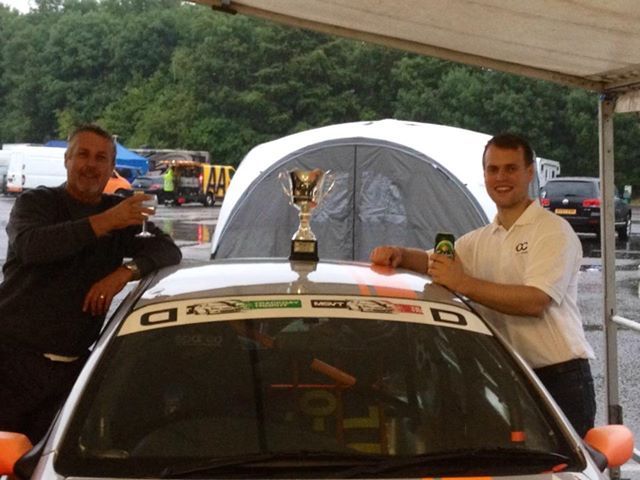 Thanks to Steven Connor, Dave Barnett, Jamie Ratcliffe, Sally Crabtree, Rachael and Ashley Clarke for all the help.
OC Motorsport Unveil Rotrex Supercharger
14:33:18 23-Apr-12
OC Motorsport have just released a Rotrex Supercharger Kit for the MK7 Ford Fiesta Zetec S. It boosts power from the standard 118bhp to 169bhp and 153lbft with no other modifications including leaving the standard exhaust in place.
Add a Milltek 4-1 Manifold and Race System and not only do you get some fantastic noise but Power goes up by 9lbft and 9bhp in the mid range making 162.5lbft @ 5100rpm
Stage 1 Power levels with Milltek 174bhp 162.5lbft
The kit is supplied and fitted on a drive in drive out basis and is priced from £3250.00
Included in the kit are:
Rotrex Supercharger
Silicone and Aluminum Piping
Larger Injectors
Front Mount Intercooler
Rotrex Lubricating Oil, Oil Filter and Mocal Oil Cooler
Remap
Power Graph Stage 1 Kit With Standard Exhaust / With Milltek Full System Decat.
In testing so far aswell as power increases already mentioned we have also seen fuel economy increase during cruising speeds, a big bonus with todays fuel prices!
Video of our MK7 Zetec S on the Rolling Road
http://www.youtube.com/watch?v=19ZvRlViTXU
Call on 07795225550 or email us info@oc-motorsport.co.uk or more information.
Fiesta MK7 Gaz GHA Coilovers
09:55:25 12-Mar-12
This is a set of Gaz Height and Damping Adjustable Coilovers, these allow you to lower your car pretty much as low as you want to go or set up for the optimum handling. They are very well designed and improve the handling incredibly. With adjustable dampening you can make the car even stiffer for track and softer for road use. A must for all track day enthusiasts.
RRP: £682.31
+ postage or fitting.
Special Deal £650.00 Supplied and Fitted
or £600.00 Delivered
We try our best to keep these Coilovers in stock, if they're not in stock then there is usually approximately a 3 week wait for them to be made for you.
Gaz Coilovers come with a 2 year warranty and are rebuildable if after the warranty period there is a problem. The rebuild costs are reasonable.
Ford Sigma Turbo Forged Conrods +Pistons
09:35:06 02-Feb-12
Ford Sigma Turbo Spec Low Compression Pistons and Steel H Beam Conrods now available.
These Wossner pistons and conrods will see a drop in compression to 8.5:1 on a standard head perfect for turbo charged use!
Pistons Available for 1.6 and 1.7 Sigma Zetec SE Engines in a choice of:
79mm standard bore
79.5mm 0.5mm Oversize
80mm +1.0mm oversize or standard Puma 1.7 engine.
The New Con Rods replace the standard weak items with a H Beam Ultra Strong Rod which comes complete with ARP Bolts.
Prices start at £920.00
Important MOT Changes for 2012
15:47:20 18-Jan-12
If you've been happily ignoring a warning light or a split steering track rod end or lower ball joint gaiter because it's not checked in the MOT you could be facing an MOT failure and an expensive repair bill in 2012 because of changes to the test.
The Department for Transport is adding a number of new mandatory test items to the annual MOT from 1 January 2012 to comply with a revised European testing directive.
The aim of the revised directive (2009/40/EC) is to harmonise minimum test requirements across Europe and make sure the test reflects the electrical/electronic complexity of modern car safety features.
VOSA, the government agency responsible for the MOT, has indicated that 'failures' relating to the new test items will be treated as 'advisories' in the first three months. This means that if you have any of the following problems with your car you've got until the first MOT renewal date after 1 April 2012 to get it fixed.
You can view the full list of the main changes on the
AA website
Of course at OC Motorsport we have the equipment to dignose the fault causing lights to illuminate on the dash and can fix the problems before we take your car for an MOT test.
What's new at OC Motorsport?
10:08:37 15-Nov-11
We've very recently upgraded our diagnostics package by going with Snap On, with the latest 11.4 software this means we can now carry out a vast array of diagnostics for many vehicles including:
Alfa, Audi, BMW, Citroen, Fiat, Ford, Honda, Hyundai, Lancia, Landrover, Mazda, Mercedes-Benz, MG Rover, Mini, Mitsubishi, Nissan, Peugeot, Renault, Seat, Skoda, Smart, Toyota, Vauxhall, Volkswagen, Volvo.
We are able to view diagnostic codes and live data and where possible clear faults or pinpoint the cause of the problem with further diagnostic procedures to confirm the fault.
Typical Systems we can test:
Engine Management
Powertrain (engine)
Airbag
Automatic Transmission
Body Control Module
Central Security
Central Timer
Climate Control
Vehicle Doors
Instrument Cluster (Including Service Resets)
Electronic Parking Brake
Electronic Power Steering
Convertible Roofs
Fuel Additive
Headlamps
Immobiliser (Including PATS)
Parking Aids
Suspension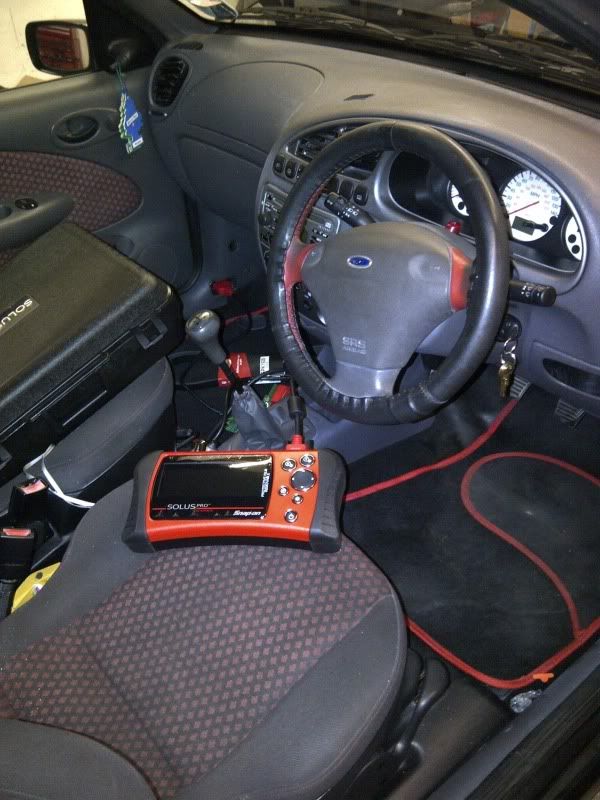 Diagnostic Code Read Starts at £25.00 on Completion of the Codes Extracted we can then look further into the fault to confirm that the codes extracted are actually the cause of the problem. (You'd be surprised how many people would change the Lambda Sensor when they read a code indicating a fault with the lambda sensor to find that when they replace it the fault still remains and they've just wasted money on a £90+ sensor when really there was a split in the intake hose after the airflow meter causing the ECU not to see the extra air going into the engine).
Depending on the fault this could take up to an hour or possibly more to confirm.
We would usually confirm with the customer how long we expect the further diagnostics to take so there are no hidden surprise costs in the diagnostics (usually 1 hours labour) if we find we need more time we will explain to the customer what we have found and what else we would need to test and how much longer we expect diagnostics would take.
Once we have diagnosed the problem we can price up the parts needed with labour involved to repair, on acceptance of this we would then repair the fault clear the error codes and job done.
Piper Cat Back Exhaust and Remap Deal
13:44:44 25-Oct-11
This is an excellent choice to unlock some extra power and very nice noise from your MK6 Fiesta and extremely good value for money!
Included are:
Stainless System 2" Bore which will bolt directly onto your standard exhaust system available with Tailpipe options A,B,C,D,I,R
Tail pipes A,B,C,D
Tail Pipes I and R
Cat Back System
A,B,C,D Price's:
[TFIE8S-ABCD]
RRP £345.60 + Fitting or Delivery
£300.00 Delivered
£320.00 Supplied and Fitted
I,R Price's:
[TFIE8S-IR]
RRP £368.40+ Fitting or Delivery
£320.00 Delivered
£340.00 Supplied and Fitted
For a limited time get your cat back exhaust supplied and fitted with an Evolution Chips Remap worth
£269.00
A,B,C,D £520.00
Cat Back Exhaust Supplied and Fitted with Evolution Chips Remap to suit
I,R £540.00
Cat Back Exhaust Supplied and Fitted with Evolution Chips Remap to suit
Easily upgradeable at a later date with Piper 4-1 Manifold and choice of decat/sports cat at additional charge.
Similar Deals for other Fiesta's and Puma's to come very soon! If you are interested in a Piper Exhaust System please email us and we will come up with a special supply and fit with Evolution Chips remap deal for your car!
OC Motorsport 2 litre Duratec ST150 Cams
10:57:38 13-Jul-11
Are you looking for a bit extra poke from you Fiesta ST150! If yes why not look at our camshaft upgrade.
We take a brand new set of blank cams ground to OC Motorsport Spec and install them into your engine in replacement for your standard cams.
These cams work fine on your standard engine management but would benefit from a remap to get the most out of them which we can now supply at an additional £350.00

We have fitted these to a customers st150 with an air filter, milltek 4-1 exhaust and Evolution Chips Remap the car produced 180bhp and 155lbft.

With Furthur mods this cam profile could see up to and above 200bhp!!

Price £475.00 Supplied and Fitted

Or £325.00 Delivered


Please note: We recommend the rev limiter is left at standard unless the valve springs are replaced. We can replace them (at additional charge) without removing the cylinder head to save on massive labour costs!!!

For a limited time only buy these cams and have them fitted at our workshop and get the remap aswell for just £300.00!!!
Milltek Price Increase
11:01:18 16-May-11
Milltek have just announced a price increase of 10% pre vat so the prices currently listed on our site are incorrect and will be updated asap.

Thanks

Ollie Clarke
OC Motorsport ST150 hits 168.8bhp!
12:43:57 26-Apr-11
OC Motorsport's own ST150 hits 168.8bhp with 155.4lbft on one of the Uk's most accurate rolling roads (TAT of Tracknroad Powerformance).
This Package consists of the following:
•Milltek 4-1 Exhaust Manifold
•Milltek Decat or Sports cat
•Milltek Race Exhaust System
•JR Panel Filter
•OC Motorsport Stage 1 custom Evolution Chips Remap- With torque limits decreased (to remove the restriction and give much better power in the lower gears) raised rev limit to 7,200RPM Crisp Clean throttle Respose without hesitation (a must for all ST150 owners).
•60MM Throttle Body
Video of OC Motorsport's ST150 on TracknRoad's TAT Rolling Road can be viewed here:
OC Motorsport ST150 Dyno Run
Standard before Tuning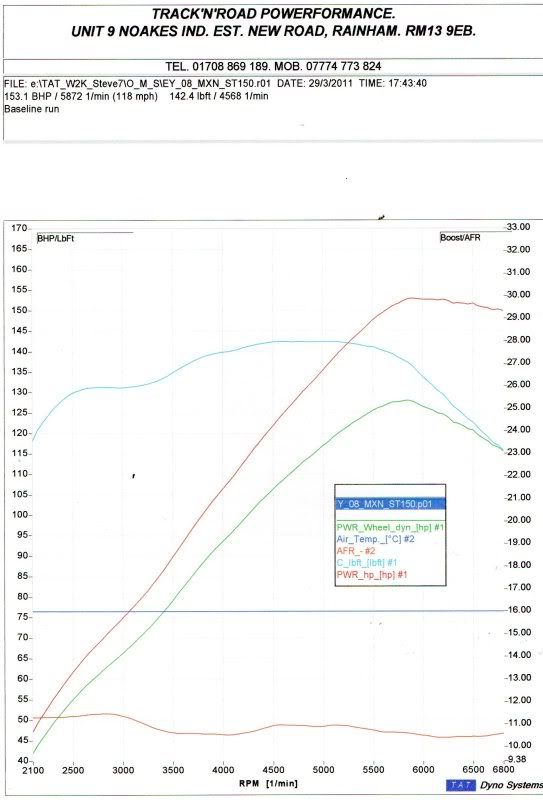 After OC Motorsport Tuning Package
Prices
•Milltek 4-1 Exhaust Manifold Milltek Decat Milltek Race Exhaust System Supplied and fitted £764.99 or with Milltek Sports Cat in replacement of Decat £1039.98
•JR Panel Filter £44.95 supplied and fitted
•OC Motorsport Stage 1 custom Evolution Chips Remap- With torque limits decreased (to remove the restriction and give much better power in the lower gears) raised rev limit to 7,200RPM Crisp Clean throttle Respose without hesitation (a must for all ST150 owners) £350.00
•60MM Throttle Body £135.00 supplied and fitted
Whole Package (decat) £1294.94 Whole Package Sports Cat £1569.93
Offer Price
£1,225.00
or Spots cat
£1,500.00
(Individual Parts can be removed from our kit if you already have them or for example do not require e.g The 60mm Throttle Body
which increases mid range and top end power by approx 2.5bhp and 2.5lbft through the rev range.
).
Happy New Year from OC Motorsport
15:07:10 31-Dec-10
We would like to wish everyone a Happy New Year and all the best for 2011!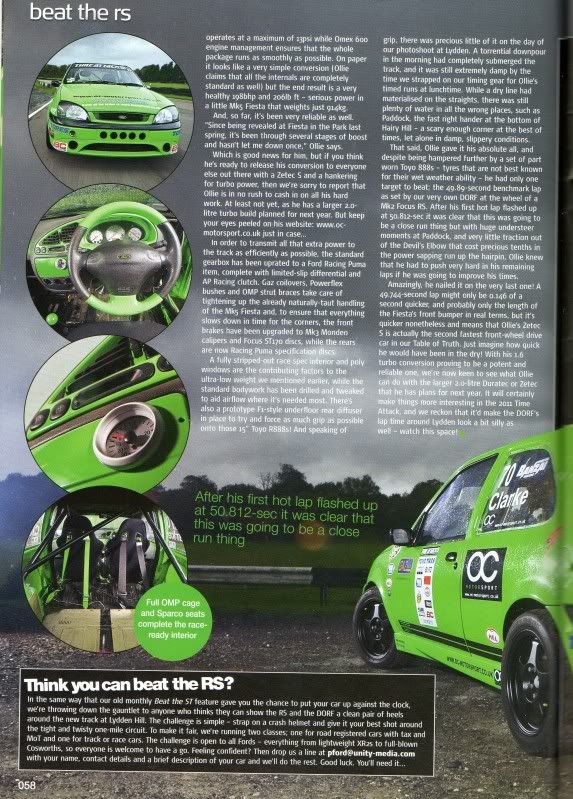 Were hoping for 2011 to be an even bigger year for us.
Our 2010 year review:
Entered Time Attack and competed in 4 of the 5 rounds. Best result was the last round at Snetterton with a 4th place in the final.
Designed and built a turbo kit for the MK5 Zetec S 1.6 Zetec Se Engine producing 198bhp and 206lbft.
Several Magazine Features in Fast Ford and Performance Ford Magazine
1.7 Puma Conversion guide @ OC Motorsport HQ
5 Engine swaps into a MK5 Fiesta (3 of the 5 cars were OC Motorsport Powered)
Beat the RS Feature (Ollie did beat the RS
in the wet
).
ZSOC Rolling Road Feature (the Green Machine won this)
Dan Prices Fiesta with OC Motorsport 1.7 Puma Conversion with Piper Cams.
On the Fast Ford Magazine stand for Ford Fair and Trax @ Silverstone.
Won the ZSOC Rolling Road Shoot out.
OC Motorsport Evolution Chips Remapping!
13:23:17 27-Nov-10
OC Motorsport are now dealers for Evolution Chips Remapping!
To Search for your vehicle please use our easy chip search
OC Motorsport Chip Search
Please contact OC Motorsport for more information!
07795225550
or
Email OC Motorsport
(info@oc-motorsport.co.uk)
OC Motorsport Sigma Stage 2 Cam Upgrade
19:27:58 27-Oct-10
OC Motorsport are now pleased to release their new selected stage 2 cam package for all MK4, 5 and 6 fiesta's running the Zetec S and SE Sigma engine in either 1.25, 1.4 or 1.6 variety.
These cams have been tested in a customers engine and have produced a massive 142bhp!!
Car Spec: Phase one Zetec S 1.6 engine, OC Motorsport Stage 2 Cams, Milltek 4-2-1 manifold, Milltek Sports Cat, Milltek Cat Back System, remap.
These camshafts give a great power increse yet are very smooth and still retain a stable idle speed.
Our camshafts are ground from blanks with a perfect base circle which often means shimming is not required! We always check the valve clearances when we fit cams and have found all sets we have fitted to install straight in with perfectly acceptable clearances!
No need for uprated valve springs as power is delivered in the standard rev limit band.
Available as a mail order product for DIY fitting or come to us and we'll fit them for you at a bargain limited time offer:
We take a pair of our fast road spec cams (ground from blanks) and install them into your engine in replacement of your standard cams with a new cambelt and tensioner.
£550.00
Call today to book your car in!
At the same time we can service your engine with a new Ford oil filter, Ford 5W30 Oil and set of ngk Platinum spark plugs for an additional £65
We can also replace the water pump for an additional £65
We also offer an OC-Motorsport Evolution Chips Remap to compilment these camshafts perfectly and give a furthur increase in power and driveability!
Mail order price for our stage 2 camshafts is
£350.00
Delivered to UK mainland. (For out of UK orders please contact for shipping price.)
Please email us for details on ordering cams.
OC Motorsport now on Facebook
09:23:29 08-Sep-10
Time Attack Round 4 Cadwell Park
15:31:23 03-Aug-10
Ollie Clarke attended Cadwell Park on Sunday the 1st August for Time Attack round 4!!
Being the first time Ollie had attended Cadwell Park he had to learn the full 2.173 mile circuit on the day!!
He managed a 1:47.145 and was just pipped to the remaining final spot!
Overall a brilliant day and Cadwell is defiantely a circuit for the future calender although being 4 hours away from OC HQ!!
Some Pics from the day!
Ollie over the mountain!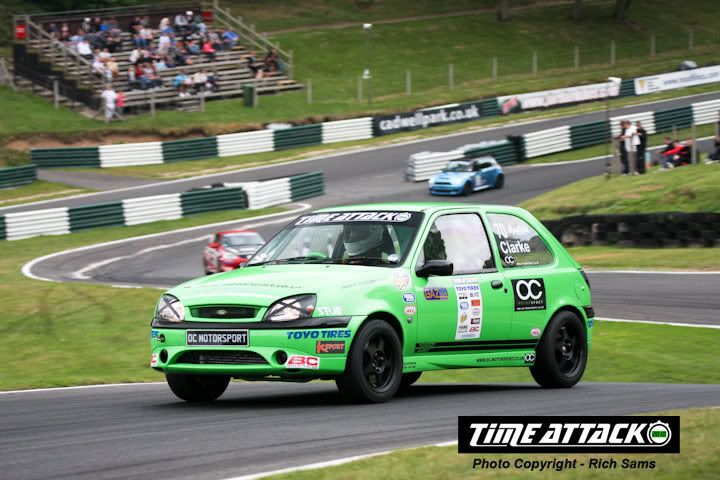 OC Motorsport 1.6 Turbo Kit 181.5 bhp
10:15:27 25-May-10
The 1.6 Zetec SE engine has now had the turbo boost pressure increased and is now making a safe and conservative 181.5bhp with 189.3 lbft.
To say it flies is an understatement! Look out for videos of the dyno run to appear on youtube very soon!
Power Graph
OC Motorsport Unveils 1.6 Zetec SE Turbo
20:09:29 17-May-10
OC Motorsport attended FITP 2010 at Huntingdon Racecourse on Sunday the 16th May! This is the annual unveil opportunity for OC Motorsport! This year was no different as the Green Machine had been fitted with OC Motorsports latest conversion the 1.6 Zetec SE Turbo!!
This conversion incorporates a lowered compression 1.6 Zetec SE with a turbo charger tucked neatly at the rear of the engine! Running on Omex 600 standalone engine management with larger fuel injectors, larger fuel pump and a large intercooler mounted up front neatly piped to look like a manufacturers fit it looks well at home!
Currently the kit is still in testing and we have found that running on just a mere 4-5psi of boost pressure the small 1.6 zetec se as fitted to a standard Fiesta Zetec S in both mk5 and 6 variants produces a very nice increase from the standard 105bhp to 145bhp with 150lbft of torque!
In the next few weeks the test engine will be seeing an increase in boost pressure to the 10 - 14 psi mark which is expected to see 170+bhp and 170+lbft
Watch this space for more news on this kit in the very near future!!!
A few pics of the 1.6 zetec se turbo conversion....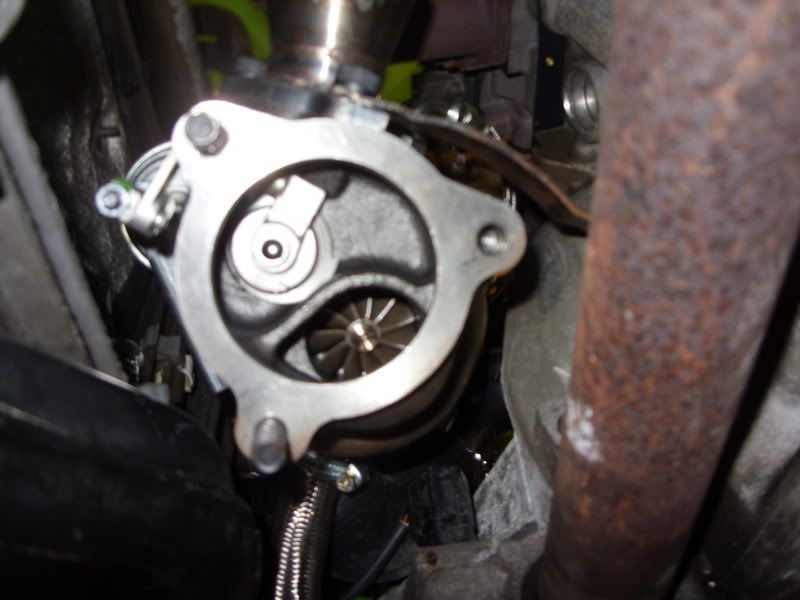 Hel Performance Brake Line Kits
12:41:19 09-May-10
OC Motorsport can now offer the full range of Hel Performance Stainless Braided brake hose kits!
Manufactured to the highest possible industry standards by Hose Solutions and a carefully selected trained manufacturing outlets, the HEL Performance car brake line kits are brand new to the tuning market, building on the worldwide success the product has had in the motorcycle market for the last 10 years.
There are no mild steel components in these kits at all - everything is stainless steel.
All HEL kits come with CNC machined stainless steel fittings, banjo bolts and new copper washers (where applicable), stainless steel braided teflon hose, a PVC protective wipe-clean sleeve, and lifetime warranty.
All HEL kits also come complete with a protective PVC sleeve, available in a choice of clear, red, neon blue, denim blue, black, deep purple, neon purple, lime green, orange, carbon look, white, and yellow at no extra charge.

All HEL hoses are legal to be fitted to any vehicle worldwide and have FMVSS-106, ADR, LTSA and DOT and TUV approval.
As an introductory offer we will be offering a 10% discount on all Hel brake hose kits to all our customers!
OC Motorsport compete inTime Attack 2010
19:04:48 28-Apr-10
OC Motorsport competed in the first round of Time Attack 2010 at Oulton Park last weekend 24/04/10.
It was a very good day as expected and Ollie was up against some very fast machinery!
Ollie was running an engine in his Fiesta Zetec-S that had already been sold to a customer, so by the next round he should be sporting something under the bonnet with even more power. He didn't make the finals this time, but put in a respectable 1:47.033 lap time in qualifying."
Time Attack 2010 Round 1 This Saturday!!
14:11:50 20-Apr-10
This Saturday 24/04/10 will be the first round of Time Attack @ Oulton Park race circuit in Cheshire. Time Attack is run in conjunction with Modified Live!
Modified Live is an interactive event showcasing the best in performance modified cars, with competitions, track demonstrations and a huge exhibition area.
Highlights include the 'Time Attack' series for performance tuned road cars, sideways action from the European Drift Championship, grid girl searches and expert advice on modifying your car. The line-up includes:
Time Attack Series
EDC Drift Championship
Drift Car Passenger Rides
Superbike vs Car
Racing Truck Demos
Drag Car Demos
Trade Area
Club Stands
Show & Shine Prizes
Formula Ford Racing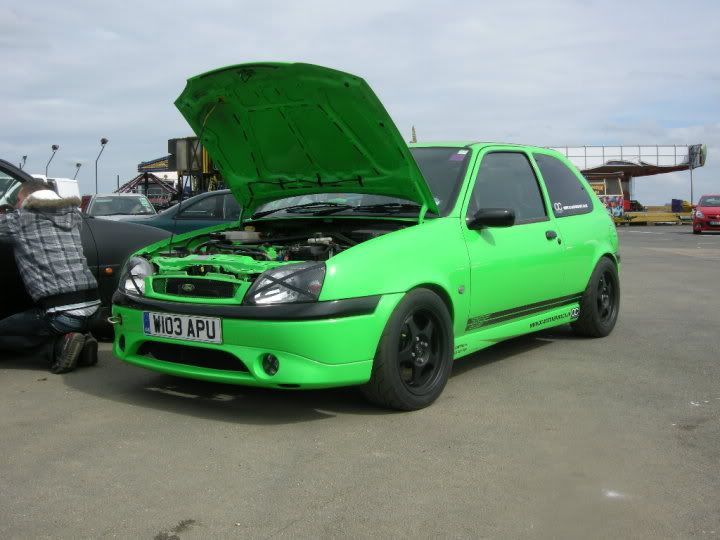 Ollie would love to have some extra support so if you fancy a road trip or live nearby, make the effort and get yourself along! It will be a cracking day!
Tickets if booked before 12pm on Wednesday are just £15 or £20 on the gate.
For more info visit
http://www.modifiedlive.co.uk/
OC Motorsport Green Machine @ Santa Pod
14:07:06 20-Apr-10
On Sunday 18/04/10 OC Motorsport attended the annual RSOC event @ Santa Pod.
Weather was excellent and what a cracking show it was with some very nice looking and fast cars!
Ollie Ran the Green Machine (2.0L ST150 Duratec Powered MK5 Zetec S Tuned with OC Motorsport Throttle Bodies and Omex 600 Engine Management) and managed 2 x 14.53 second standing quarter miles @ 96mph
Brilliant times as many would agree! Expect better times in the near future from this car!!!!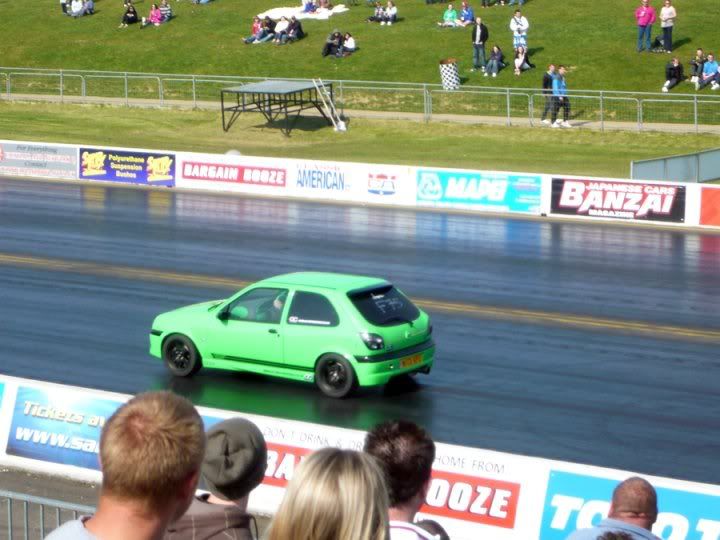 OC Motorsport enter Time Attack 2010
10:32:40 29-Mar-10
OC Motorsport have entered the Green Machine into time Attack 2010 in the club class!!!
We will be competing in 5 rounds at some of the best circuits in the country!!
Oulton Park 24/04/10
Knockhill 16/05/10
Brand Hatch 27/06/10
Cadwell Park 01/08/10
Snetterton 10/10/10
The car will be undergoing furthur modifications ready for the first race!
For more information of the series visit
http://www.timeattack.co.uk
CLUB CHALLENGE
7 Fiona Kindness 4WD Nissan Skyline R32GTR
9 Gary Searl 4WD Mitsubishi Evo 8
21 Scott Robson 4WD Subaru Impreza
23 Walter Morris 4WD Nissan Skyline R32GTR
26 Jon Beech - OWH 4wd Subaru Impreza
72 Warren Kelly 4WD Escort RS Cosworth
46 Andy Hughes - OHW 4WD Subaru Impreza
76 Andy Andreou 4WD Subaru Impreza V3 Sti
79 Eric Holmes 4WD Mitsubishi Evo 6
80 David Coe 4WD Subaru Impreza Sti 8
82 Matthias Bachler 4WD Subaru WRX STI Spec C Type RA
83 Mathew Webster 4WD Subaru WRX STI Spec C
86 Gerry Atkinson 4WD Audi A3
87 Nick Chatburn - OHW 4WD Nissan Skyline R35GTR
14 Marco Haig FWD Fiat Coupe
54 David Ward FWD Mini Cooper S
72 Nigel Brown FWD Mini Cooper S
75 Bo Nielsen FWD Vauxhall Astra VXR
78 Julian Holdcroft FWD Honda Type-R
84 Jay Mctoldridge FWD VW Polo
94 David Bayliss FWD Mini Cooper S
16 Paul Whiffin RWD Toyota Supra
19 Steve Linton RWD Toyota Supra
48 Umar Masood RWD Mazda RX7 FD3S
55 Tim Nicholas RWD Nissan Skyline R33GTST
71 Ronnie Amis RWD Ford Sierra RS Cosworth
73 Mathew Webb RWD Mazda RX7
74 Jamie Wilson RWD Lotus S1 Exige
85 Suzanne Duxbury FWD Honda Civic EP3
91 Paul Hughes FWD Honda Integra DC5
70
Ollie Clarke FWD Ford Fiesta Zetec S
77 Jonathan MacGregor RWD Lotus Exige
88 Pip Gardner - OHW RWD Mazda RX7
2 Jeff Mileham RWD Lotus Elise
5 Daniel Gannon RWD BMW E36 M3
17 Tony Campbell RWD Porsche 968CS
18 Gary Campbell RWD Porsche 968CS
41 Mark Pollard 4WD Metro 6R4
4 Bren Simpson RWD Nissan S14 V8
81 Stuart Orr RWD Ultima GTR
15 Gordon Wright
CLUB PRO
6 Duncan Graham Subaru Impreza Hawk Eye
9 Lee Broadhurst Mitsubishi Evo 9GT
10 Russ Paton Mitsubishi Evo 6
12 Ben Viner Mitsubishi Evo 6
14 Richard Jones Mitsubishi Evo 8
15 Dave Perry Nissan Pulsar GTiR
24 Marcus Webster Nissan Skyline R32GTR
43 Michael Mahoney Mitsubishi Evo 8
44 Simon Deaton Mitsubishi Evo 8
PRO
2 Steve Guglielmi Lotus Exige
3 Bob Moore Mitsubishi Evo 5
4 RSE Motorsport Mitsubishi Evo 8
5 James Nicholls Mitsubishi Evo 6
7 Gavin Renshaw Subaru Impreza GC8
8 Robin Duxbury Mitsubishi Evo Cyber Evo UK
11 Zak Ramage Subaru Impreza
OCM Tuned 1.6 Zetec S makes 155.7bhp
10:28:55 20-Nov-09
OC Motorsport have built a 1.6 Zetec SE with a set of Cams, Uprated Valve Springs, Uprated Big End Bolts, OC Motorsport Spec 40mm Throttle Bodies, 240cc Injectors, Piper 4-2-1 Manifold and System all running on Omex 600 Management.
This has been installed into a MK5 Zetec S and Rolling Roaded at 155.7bhp!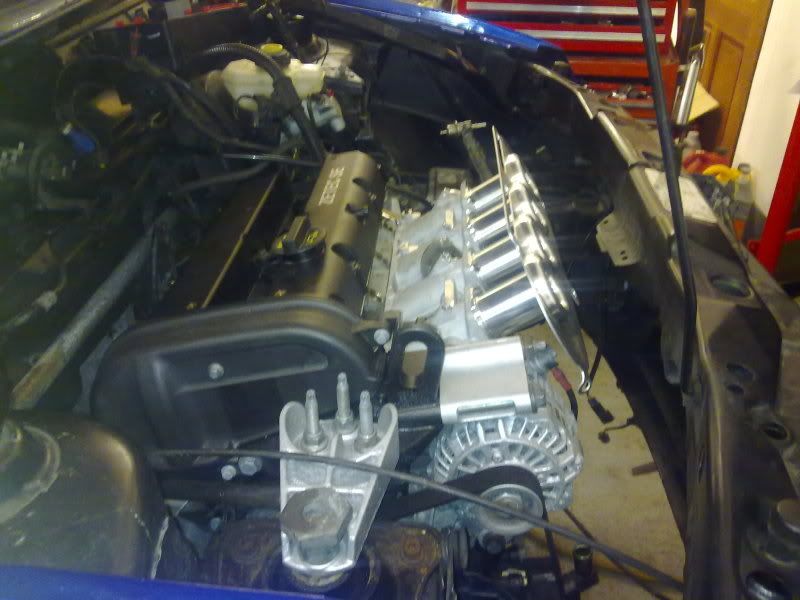 Video of the car on the Dyno can be watched
here
OC Motorsport At Brands Hatch Video
20:52:53 14-Sep-09
OC Motorsport Attended Brands Hatch for the Performance Ford Track Evening In our Green Machine ZST 182 Duratec Engine Conversion.
We have a found a Video on Youtube of us from the day
Video Link
Enjoy!!!
All Makes + Models Servicing + Repairs
We are able to service all makes and models of vehicle prices starting at £75.00
Anything from an interim service consisiting of a full checkover + report + Oil + Filter change + Pollen Filter Change.

To a Full service including full checkover and report Oil + Filter, Pollen Filter, Fuel Filter, Air Filter, Spark Plugs*

We use very high quality parts from the Vehicle Manufacturer or OEM spec from well known brands such as Bosch.

We also use high quality oils such as Shell Helix.


Please call OC Motorsport on 0779522550 or email info@oc-motorsport.co.uk for a quote today.


* spark plugs replaced on petrol models only

OC Stage 2 Cams Fiesta Zetec
We have selected a pair of camshafts for our stage 2 cam kit which give a great power increse yet are very smooth and still retain a stable idle speed.

These fit both phase 1 and 2 engines.
Will fit in all 1600cc 1400cc and 1250cc engines.
No need for uprated valve springs as power is delivered in the standard rev limit band.

We have fitted a set of these cams into a customers car with a phase one 1.6 engine full miltek 4-2-1 Manifold, Sports cat and race system and after a remap it produced 143bhp and 120lbft!

Available as a mail order product for DIY fitting or come to us and we'll fit them for you:

We take a pair of our fast road spec cams (ground from blanks) and install them into your engine in replacement of your standard cams with a new cambelt and tensioner.

£550.00

Call today to book your car in!

At the same time we can service your engine with a new Ford oil filter, Ford 5W30 Oil and set of ngk Platinum spark plugs for an additional £65
We can also replace the water pump for an additional £65
Add one of OC Motorsports custom Evolution Chips ecu remap for £250.00


Mail order price for our stage 2 camshafts is £350.00 Delivered to UK mainland. (For out of UK orders please contact for shipping price.)

Please email us for details on ordering cams

http://www.oc-motorsport.co.uk/index.php?products&type=1.6 Zetec SE Engine Tuning
Offical Dealers For